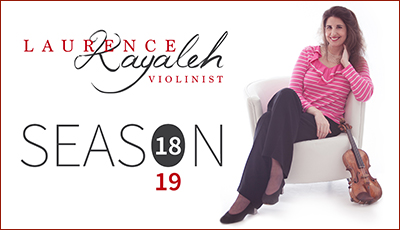 Laurence Kayaleh – 2018-2019 Season
Dear Friends !
Here is a brief outlook on my upcoming musical season ! Events will include concerts at the JT Hall in Tokyo, Japan, with pianist, Yusuke Kikuchi ; new album releases on NAXOS Records, working with sound engineers and producers, Martha de Francisco & Drew Henderson ; a special violin & guitar concert tour with Canadian classical guitarist, Michael Kolk, including works by Paganini, Rebay, de Falla, Roux & Piazzolla ; performances of Tchaikovsky's monumental Piano Trio, Op. 50 with cellist, Elizabeth Dolin & pianist, Bernadene Blaha ; performances in British Columbia, Canada, including a concert for The Coast Recital Society with pianist, Michelle Mares ; performances in San Miguel de Allende, Mexico, for the Pro Musica Series with pianist, Claire Ouellet ; Czech music concerts in Montreal with cellist, Elizabeth Dolin & pianist, Claire Ouellet ; a Russian music concert with pianist, Jean-Fabien Schneider, for Les Saisons Russes de Montréal, including works by Strauss, Grieg, Brahms, Suk, Smetana, Dvorak, Tchaikovsky, Szymanowski, Schumann, Prokofiev & Khatchaturian. I will also be making my viola debut 😉, and will be conducting a public Masterclass in Japan, in September 2018.
I'm very much looking forward to all these events and collaborations with my wonderful colleagues !
Stay tuned for more exciting news to come ! For detailed information, please click the button below :