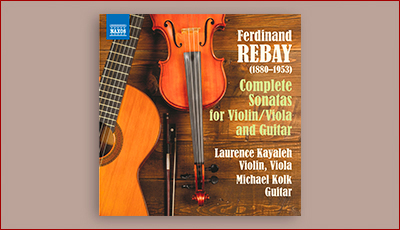 F. Rebay – Album Review – David Denton
REBAY, F.: Sonatas for Violin and Guitar / Sonata for Viola and Guitar (Complete) (Kayaleh, Kolk)
Naxos 8.573992
In a life spanning seventy-three years, where he is said to have composed around nine hundred works of various genres, Ferdinand Rebay is now totally forgotten.
Born in 1880, he was a piano and composition student at the Vienna Conservatoire, his career as an educationalist then giving him time to write operas, oratorios, symphonic and chamber music. By far the largest part was guitar music that came into his life when a friendship with Jacobus Ortner, another teacher at the Musikhochschule and his niece, a leading European guitarist in the first half of the 20th century, opened up a new world of music. In total he is said to have composed around 600 pieces for guitar, much of it in the 'classical' mode. Among that massive collection are three duo sonatas, unusual in the fact that they are equal 'voices', without either consigned to an accompanying role. Rebay was said to have composed in the style of Brahms, the works, as represented here, are too lightweight for such a connection. We know that 1942 was the composition date for the violin/guitar sonatas, but the date of the viola work is unknown. In many ways I find this the most persuasive, the darker colours of the viola bringing a much greater contrast to the guitar, while Rebay was here finding more attractive melodic material as he explores the use of solo passages for both instruments.
Rebay has the good fortune of having Laurence Kayaleh doubling on violin and viola, her perfect intonation and thoughtful phrasing mirrored by Michael Kolk's excellent guitar playing. Still want persuading? Well try track 5—the opening movement of the Viola/Guitar duo—and I doubt you will make a more beautiful discovery this year?
© 2020 David's Review Corner